Post by unspoken on Apr 4, 2008 19:50:49 GMT -5
Ello there! Im new here and have all ready posted a greeting thread here. Im not sure if im supposed to wait for something to start a role play thread. If i do something wrong please tell me! Thank you >.>
------------------------------------------------------
name: Ra
age: Unknown
gender: female
race: deleter
D.O.B: 01.13.xx
weapon(s): A long gold cross thats as long as she is tall. Transforms into a cross ring on her finger when she doesnt need it.
Power: you'll find out~<3
height: 5'9"
likes: chocolate, butterflies, anything cute
dislikes: rude people, vegatables
attitude: Comes off as passive-aggressive at first but really is quite a lively person. Has a bit of a sarcastic nature.
appearance: This pics a little large so go here-
[LINK]
Notes: Around her wrists there are handcuffs like this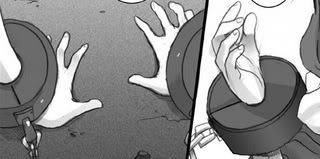 Pet-
Name: Abyss
Race: Abyss demon
Pic: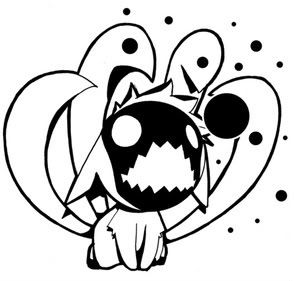 Notes: The only sound it knows how make is "nyuu". Its an obediant/servant type demon.
------------------------------------------------------
Ra moved swiftly through the woods, wind rushing past her pale face. It was a warm day and the sun had begun to set over the horizon. Now the direction she was going wasnt the one she had orginally intended to go in, but a scent carried by the wind had changed her mind.
It was the smell of blood.
The scent told her that whatever event had taken place was close enough, and she estimated about three bodies probably. The forest she was in was near the edge of a rather large town so she figured if she got attacked she could lose them there. Besides, she was quite bored currently, perhaps she would come across something interesting...?
She slowed as the scent grew stronger untill she was but ten feet away. Walking now she silently crept forward. Moving aside a particularly thick tree branch she found herself in a large clearing.
She felt her eyes widen a little as the shock of the sudden strength in the scent hit her. She had been wrong, there was at least 10 bodies in the clearing and there was blood everywhere. She was momentarily distracted untill the sound of a slight shift in movement caught her attention and she looked up.